Linda Posted on March 11 2015
How To Take Care Of Your Pearls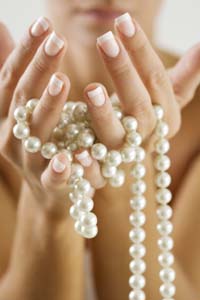 Most of us wear cultured pearls and these beautiful pieces of jewelry need to be cared for properly.

Caring for your pearls

• Pearls should be put on after perfumes, makeup, and hairspray is applied.
• You should avoid putting perfume or lotions in the area where you will be wearing your pearls.
• Wipe your pearls with a soft, lint-free cloth as soon as you take them off.
• Pearls should be stored in a soft pouch or stored separately from other jewelry so they do not get scratched.
• If your pearls get dirty, you can use a dampened soft lint-free cloth to remove any dirt. Allow the pearls to air dry before putting them away. 

• Never clean your pearls with any solutions that contain ammonia or harsh detergents.
• Don't put pearls in an ultrasonic cleaner.
• Wearing your pearls often is good! Pearls absorb the natural oils from your skin which gives them a          beautiful luster.